I have not posted in the last few months due to the exigencies of work (the real one) and me trying to sell off my factory replaced camera body in order to upgrade it to the next level.  Without much success with the camera sale and upgrade, I decided to keep it and shoot the food again.  After reading some online recommendations of a relatively new Laotian restaurant in Columbia Heights, DC, and another from Bon Appetit, I trudged to this new find a number of times with my faithful camera bag encasing a new lens to give me an excuse to get back on the photography and foodie track.
Thip Kao is located on the ground floor of an expansive apartment building on the ever-evolving 14th street corridor with floor-to-ceiling windows that flood the place with natural light, thus allowing this photographer to take advantage of its lunch time hours for the food shots.  The space is rather sleek and modern with touches of SE Asia in the arts and crafts that fill up the relatively stark space.  After perusing the rather menu with its novel listings for this diner, a basket of chili paste and raw vegetables appeared.  One bite into this spread piqued my curiosity.  The mixture was quite spicy with notes of both raw and dried chilies, a bit garlicky and it was quite sweet, which made it even more irresistible.  The raw snakebeans and cucumber slices were the perfect canvas to the biting relish with their mild flavors, yet providing the cooling foil to the piquancy.  On another visit, a friend decided to try the Laotian beer.  I couldn't help but to take a few sips of his drink, which immediately transported to my childhood in that part of the world.  The lager was quite hop-like in flavor, with a sweet after-note that I particularly enjoy from this Pilsner-style of brew.  Interestingly enough, rice is listed as one of its ingredients, perhaps adding to the sweetness.  Whatever it is, it seems to be the perfect quencher to imbibe with the bold flavors and spicy dishes of this cuisine.
To start off the meal on the many visits, I decided to try their Laab dishes, or minced meat salads.  The first one was highly recommended by online reviews, and it was a complete oddity to me – Naem Khao.  The bowl arrived with crispy brown bits which looked like pork rind.  One spoonful of it revealed its true nature: bits of cooked rice were cooked crispy and made unctuous by the use of coconut milk in the process, making it equally sinful as its porcine look-alike.  Its tempting qualities were matched and balanced by the other ingredients: sweet pungent onions, herbaceous cilantro, biting green onions, rich peanuts, and sour Lao pork sausage which lent some rich meat notes.  The green lettuce leaves provided the DYI wrap element to the dish as well as more fresh element to the "salad" – this dish was a definite hit in my books.  A salad dish on another occasion was Tam Muk Huong.  This green papaya salad revealed the closeness of Laotian cuisine to its Thai cousin, which both cultures share similarities not only in the food but also their language.  But my friend and I were overwhelmed by the balance in the dish for it was too spicy (even for me), too sour, and it lacked the balance from sugar and peanuts found in the Thai version.  On another occasion, I had to try the Alligator version – Laab E'Kae.  I must say that I enjoyed this dish very much even though its spice heat was still quite uncompromising but made bearable this time by the balanced sour sauce, and the raw vegetables and the steamed purple glutinous rice that took the edge of the bite when eaten alternately. The alligator meat was interesting with its flank steak texture, a mild chicken-like meat flavor, and a faint after-note of dried shrimp.  The green mango added some slight sour crunch, the mint and cilantro some herbal qualities, the onions and green onions some sweet pungency, and the toasted rice powder a faint smokiness.  Despite it's rather steep price, I would order it again both for its balanced flavors and novelty.
A couple of dishes were ordered from the Soup and Stews section of the menu.  The first was a lunch noodle soup dish called Khao Poon.  The bowl arrived with a pool of red curry-like broth submerging a mound of rice vermicelli noodles and a heap of garnishes.  One spoonful of it and I was reminded of the Malaysian version, Laksa, which I grew up on and am very fond of.  I must say that broth was nearly as good as I would have wanted it with its right amount of spice heat, its herbal root qualities, a slight sea funkiness from the shrimp paste, a light acidity from the use of tomatoes, and its coconut milk richness.  The accouterments of raw cabbage, raw beansprouts, radish, mint, cilantro, and a slice of Kabocha pumpkin added some fresh counterpoint to the rich broth and soft noodles.  I can see why this dish was very popular during the lunch time, and I would just order this dish when in the mood for a spicy noodle soup dish despite the meager slices of chicken in the bowl – meat in Asia is treated like garnishing, unlike in this country.    On another occasion, a soup was ordered – Tomp Som.  The bowl that arrived betrayed my expectation; I was not expecting a clear soup since I was used to Thai soups covered with red chili oil or made opaque from coconut milk.  The clear broth, made from coconut water, was flavored with tamarind for sour notes, fresh basil for mintiness, dried chili for heat, with a faint hint of lemongrass, filled with bits of chicken, Shimeji mushrooms, and cherry tomatoes.  After a few sips and getting accustomed to the unexpected, I started to appreciate this rather understated soup for SE Asian cuisine standards, even though a part of me was still hoping for more spice and aromatics.
As a main course, I  asked the waiter for a recommendation, but his harriedness did not afford me much attention on a few occasions (they seemed understaffed during my visits).  What I ordered was Thom Kem.  A bowl of braised pork and pig ears stewed in a dark sauce, and paired with a boiled egg.  The pieces of meat were quite tender, having absorbed the flavors of the stewing liquid, with bits of attached fat and skin attached, characteristic of that cut of meat. However, the nearly cloying sweet soy-base liquid and its five-spice and cinnamon notes, along with some fresh ginger, could not mask the strong porcine flavor, typical of pork served in this country (I don't find the same problem in Asia).  The pig ears fared a bit better with a gelatinous quality coating a slightly crunchy middle.  I quite enjoyed the dish initially, but soon I was slightly overwhelmed by the porky scent and the sugar in the sauce.  With the right meat source and taming down the sugar (palm sugar, I suspect), this dish would be go beyond a one-hit/taste-wonder stage.
A couple of fish dishes were sampled during the visits.  The first was Paa Ka Tod from the "Invasive Species" section of the menu.  The colorful dish arrived with bits of avocado and mango on top of the fillets of Snakehead fish.  I wanted to really like this dish, but eating it was like brokering mediation between estranged family members.  The different elements seemed out-of-place and they were pulling me in different directions, this compounded by the not-so-ripe fruits that left me nonplussed or filled with sourness, coated by a sour sauce – the above sour soup and sour green papaya salad made this diner and my companion (already grumpy from traffic issues getting there) further aggravated with this overwhelming note during a given visit.  Even an order of purple glutinous rice didn't help to link the disparate flavors together, with me feeling further frustrated by having to send it back for being undercooked (few places get the cooking right).  Despite all the marring in that day's meal, there was a redeeming quality in the fish filet which played quizzically on my tongue.  The Snakehead flesh was very firm with a mild tasting quality and a hint of fish oiliness that I had never tasted before.  I would make it a point to order another dish with this type of fish on the next trip.
I have to admit that I tried the next dish twice in different forms – Knap Paa.  A salmon fillet has been coated by a spice paste and topped with herbs and aromatics, wrapped in banana leaf, and grilled on fire.  I enjoyed this preparation from the first bite, with the fish kept moist by the wrapping, the spice paste tasting complex and giving the fish interesting notes, and the garnishing of red peppers, onions, green onions, ginger and fresh dill (a new one for me as for SE Asian cooking) imparting their subtle aromas while providing textural interest.  The restaurant also offers this similar preparation for sea bass, cod, blue catfish, chicken, and tofu, but I prefer the firm salmon based on my order.  On another trip, I noticed a couple of ladies enjoying the same dish, but in another form, and I knew I had to give it a try.  The wooden board arrived with its elements of lettuce leaves, grilled salmon, rice vermicelli, radishes, cucumbers, tomatoes, peanuts, and sliced lemongrass.  Assembling the leaf packages was definitely fun, and it elevated the dish to another level, and I especially enjoyed the pungent aroma from the lemongrass, and the spicy and sour elements in the sauce.  This dish is a must order in my books.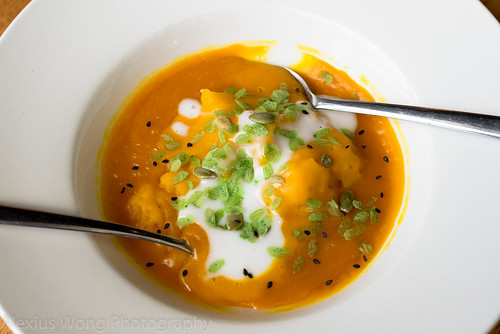 Usually not one for desserts, a couple of sweet offerings detracted me away from my narrow path.  The first was Pumpkin Sticky Rice.  The bright orange topping definitely screamed Pumpkin and I was expecting to be overwhelmed by it.  Fortunately, it was more subdued than what I expected, with the pumpkin tasting more like butternut squash that has been tempered with some coconut milk.  The glutinous rice was properly cooked with no chalkiness left, that I would find in some places.  The splash of coconut cream infused with the Pandanus leaf flavor was totally up my alley, hitting the comfort food hot spot as I grew up on these flavors, while lending its creaminess to the whole mix.  Bits of toasted pumpkin seeds, black sesame seeds, yellow mung bean seeds and crispy green pre-mature rice added the necessary counterpoint to the sea of orange as well as the textural contrast to keep each mouthful interesting.  A similar version made with avocado was akin to the aforementioned dish.  However, the green sauce was mellower in flavor while exuding a slight vegetal quality to the whole mix.  I must say I did enjoy these two sweet endings, albeit they were quite filling, hence half of the servings became dessert for another time at home.
Thip Kao definitely serves veritable Laotian food in a fairly modern setting, and it is the only such restaurant in the District itself.  There were some highs and mediocre dishes.  What I enjoyed most is the crispy rice salad that grabbed my attention from the first bite, the curry noodles that reminded me of my childhood, the grilled salmon that was a part of the constructed leaf package, and finishing with either sticky rice desserts.  Yes, there are issues with the under-staffing and a couple of dishes that were not balanced or seemed to be missing an extra element.  Putting these flaws aside, I feel that there are more dishes worth exploring, and I am up for such gastronomic adventure, and doing my part of getting rid of tasty "invasive species" prepared well by this establishment.